Courtesy of Executive Chef Anthony Villanueva of Edgewood Country Club
Eggplant Meatballs
1 large eggplant, chopped
2 slices stale bread, crust removed
1 cup ricotta
2 eggs
1 cup freshly grated parmesan cheese
1 cup freshly grated pecorino cheese
salt and pepper
1/2 cup breadcrumbs
1/2 cup flour, plus extra for dredging if needed
San Marzano Marinara
1/2 cup extra-virgin olive oil
1 onion, chopped
1/2 cup Greens Do Good Basil Leaves, chopped
1 can San Marzano tomatoes, crushed
Salt and pepper, to taste
Freshly grated parmesan cheese, for sprinkling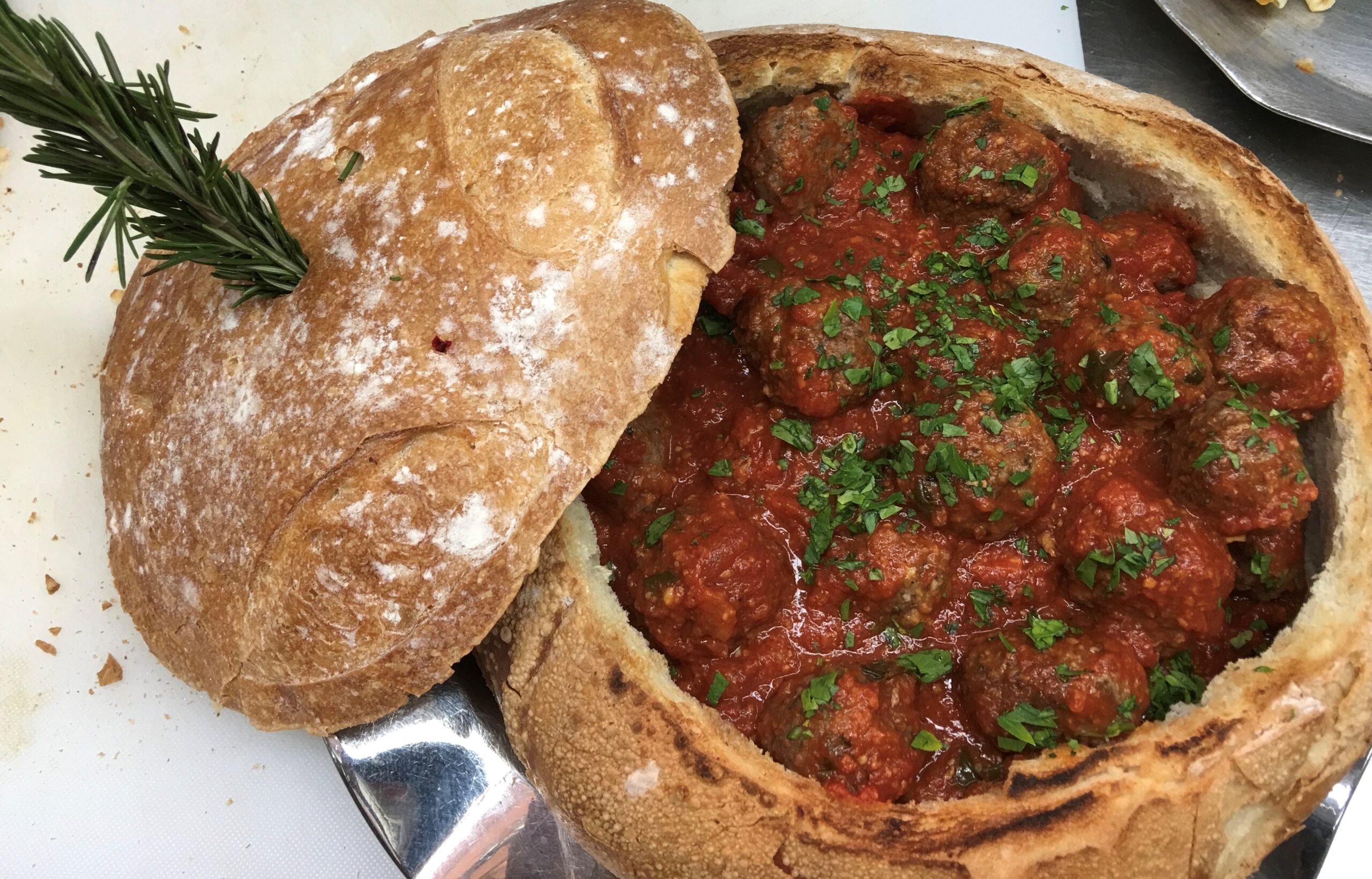 Step by Step Instructions
For the Meatballs
Boil the chopped eggplant in salted boiling water for 4 minutes. Drain well and let cool. Squeeze out any excess water from the eggplant.
In a bowl, add the bread and milk. Allow the bread to sit and absorb the milk for a few minutes. Squeeze out as much of the milk from the bread as possible.
In another mixing bowl, add the eggplant and break up the bread into the bowl. Add the eggs, Pecorino, Parmigiano cheese, and salt. Then add the bread crumbs and flour. Cook's Note: If your mixture has a lot of moisture you may need to add more bread crumbs and flour. Mix well until all the ingredients are evenly distributed. With your hands, shape the meatballs into the size of golf balls. Dredge the meatballs in the flour.
For the San Marzano Marinara
In a large saucepan heat up olive oil. Sauté the onions and add the San Marzano crushed tomatoes, "Greens Do Good" basil and salt. Bring the mixture to a light boil Add the meatballs to the sauce and allow to cook for approximately 15 minutes. Plate and Sprinkle the Parmigiano cheese and more chopped basil