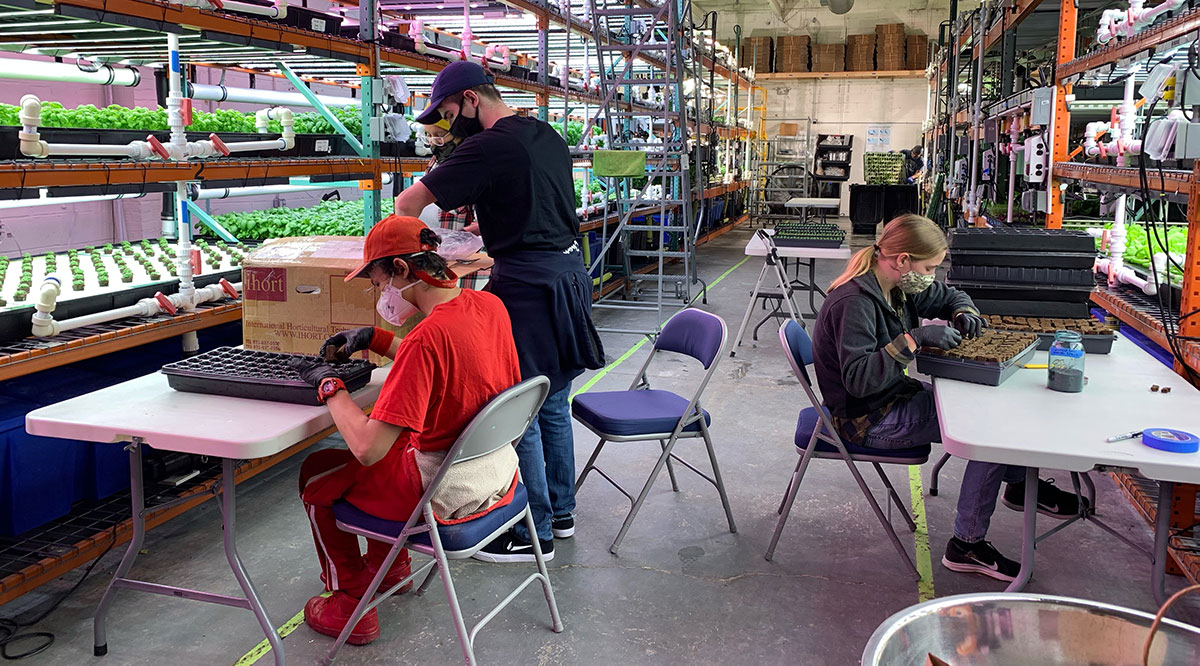 To learn more about our Workforce Development program, contact Jen Faust, Greens Do Good Director of Operations.
The daily structure and personal fulfillment of a job well done is an essential part of life—and it's just as important for individuals with autism as it is for anyone else. Yet, nearly half of 25-year-olds with autism have never held a paying job. At Greens Do Good, a hydroponic, vertical farm in Hackensack, NJ, we're doing our part to change that.
Our mission is to transform the way our local community sources healthy produce by providing the freshest ingredients in a sustainable and socially responsible way.
When you walk into Greens Do Good, among the stacked trays of basil, microgreens, and lettuce, you'll see teens and adults with autism hard at work. Each person takes on tasks that match their interests and abilities, including crop maintenance, packaging, and inventory.
Through our Workforce Development Program, we provide more than 800 hours of training each year to teens with autism, teaching them environmentally sustainable practices along with essential job skills. This helps them build their resumes and lays the foundation for future employment. For our adult participants, we offer paid employment opportunities, valuable work experience, and meaningful community integration. To amplify the progress we're making, we're also working to grow our employment pipeline in partnership with other "green" businesses.
Our environment-friendly farming methods allow for year-round growing, using less space, water, and energy than traditional farms. We sell our products through farm club membership and to local restaurants, country clubs, supermarkets, and food service providers — raising autism awareness as we go. We partnered with the Bergen County Food Security Task Force to provide surplus produce to families in need, right in our community.
Greens Do Good is part of the REED Autism Services family of programs, which provides support for individuals with autism so they can thrive and achieve their full potential throughout their lives.