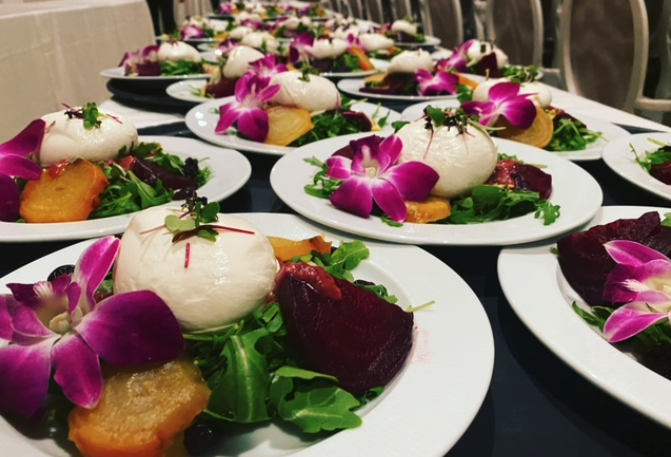 Courtesy of Edgewood Country Club Executive Chef Tony Villanueva
This beautiful salad from Edgewood Country Club Executive Chef Tony Villanueva showcases the crisp freshness of Greens Do Good baby arugula, accented with roasted golden beets and delicious burrata!
4 pieces of burrata 4-ounce portions
2 whole golden beets
2 whole red beets
2 tbsp olive oil
To taste, salt and pepper
2 sheets of foil for wrapping beets to roast in oven
Handful Greens Do Good tri-color microgreens mix
1 shallot, chopped
1 tbsp Dijon mustard
1 tbsp honey
1 cup sun dried cranberries
1 cup white balsamic vinegar
2 cups canola oil
4 edible orchids
Step by Step Instructions
Roasted red and golden beets:
Wash the red and golden beets with cold water and pat dry.
Place beets on aluminum foil and sprinkle with olive oil and season with salt and pepper, wrap tightly in foil and roast in oven at 350 degrees for 45 minutes until soft to touch.
Let rest until cool then unwrap from foil, peel beets then slice into quarter wedges or slices. Reserve until ready to make salad.
Cranberry vinaigrette: yield about 3 to 4 cups
In a blender add chopped shallots, Dijon mustard, and honey and blend for 30 seconds.
Add white balsamic vinegar and blend for 30 seconds, add cup of sundried cranberries and blend for another 30 seconds.
Gently pour in the remaining two cups of canola oil and blend until emulsified. Add salt and pepper to taste.
Burrata:
Simply cut into the burrata container that comes packed in water and drain liquid. (If less burrata is desired, use halves or quarters).
Place on a separate plate or paper towels until plate up.
Plating:
Use a chilled salad plate or bowl and arrange crisp Greens Do Good arugula in center of the dish. About 4 ounces of greens.
Artfully arrange sliced red and golden beats around the arugula greens. Mix colors for a beautiful fall look.
Gently place the burrata in the center on top of arugula and roasted beets.
Gently whisk vinaigrette and drizzle over salads depending on amount of dressing desired.
Decorate salad with a pinch of micro greens and colorful edible orchids on top of burrata and serve!