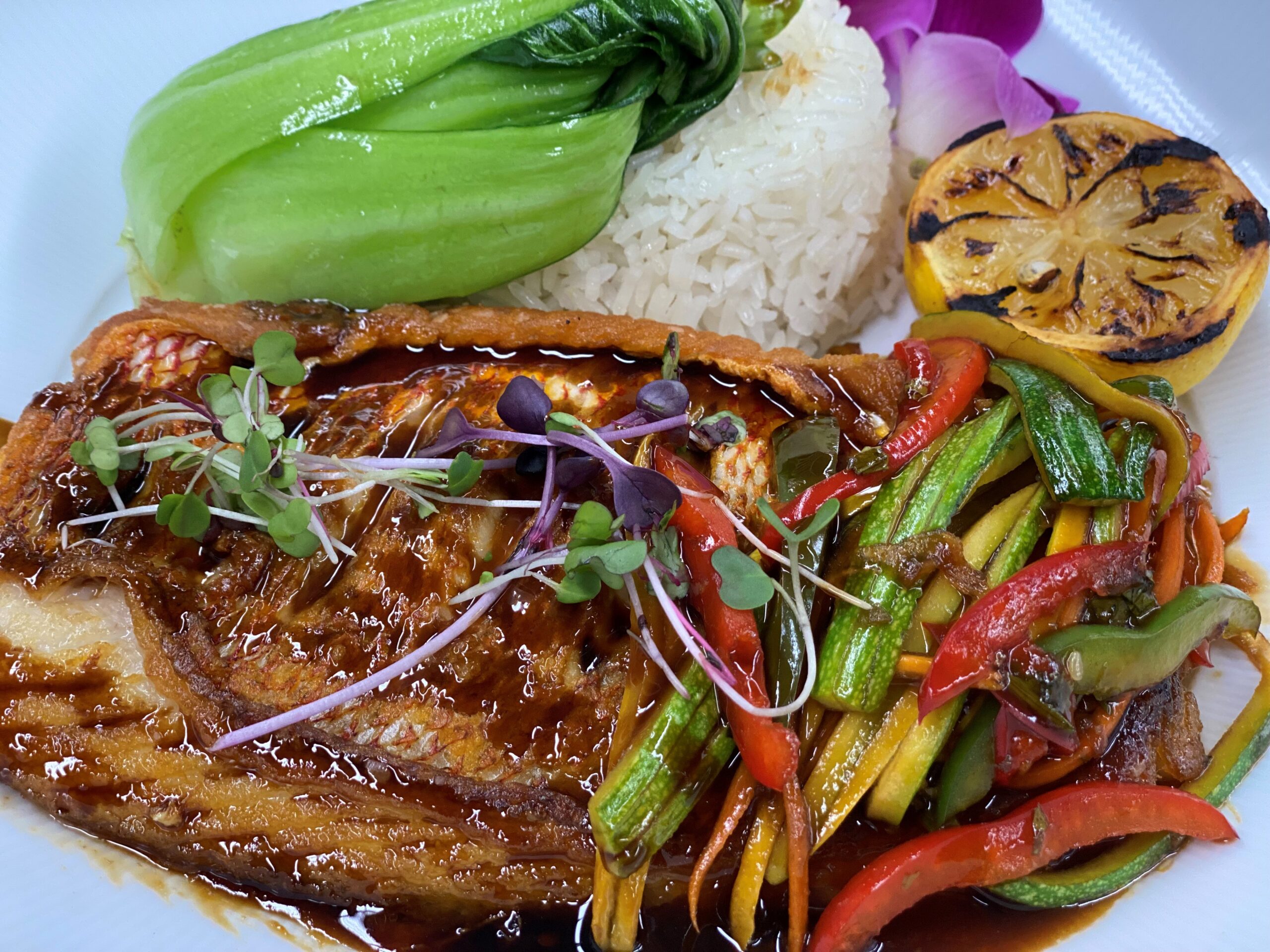 Courtesy of Edgewood Country Club Executive Chef Tony Villanueva
Please enjoy this easy simple dish. This is a heart healthy flavorful dish that is light and fresh, bursting with flavors enhanced by fresh vegetables in a light broth. This recipe calls for Red Snapper, however the recipe is versatile and simple enough to use with your favorite fish. The texture of the crisp skinned fish, the crunch of the vegetables complimented by the luxurious broth is quite a treat. Enjoy one of my favorites!
(2) 5 oz Red Snapper filet, pin-boned and scales removed, then scored
1 tbsp sesame oil
Salt and pepper
1 medium baby bok choy trimmed, cut root ends split in half
1 medium carrot, julienned
1 medium green zucchini, julienned
1 medium yellow zucchini, julienned
1 medium red bell pepper, julienned
1 cup bean sprouts
½ cup sliced scallions
2 tbsp sesame oil
1 tbsp chopped ginger
1 tbsp chopped garlic
2 tbsp hoisin sauce
2 tbsp tamari (GF Soy)
½ cup of mirin sweet wine
1 sprig of cilantro for garnish
1 bunch Greens do Good micro greens for garnish
Step by Step Instructions
Red Snapper
Pat Dry and Season the Red snapper fillets with salt and fresh cracked pepper.
Heat up a Wok or Medium sized Sauté Pan, add the Sesame oil and heat up until hot enough to sear the fish in.
Gently Place Red Snapper Filet Skin Side Down into hot sauté pan and allow red snapper to attain a good sear about 2 minutes.
Use a thin spatula or perforated fish spatula and gently flip over to sear on the other side about 1 minute.
Remove from pan and place in center of shallow bowl or appropriately sized dish.
Hold fish warm until vegetables are ready to plate and serve.
Bok Choy & Stir-fry Vegetables
Heat up Wok or medium sized sauté pan, add sesame oil and heat up until light smoke point.
Add chopped ginger, garlic, scallions and sauté until fragrant to develop flavor.
Add split baby bok choy and sauté for about one minute. Add carrots, zucchini, yellow squash, red bell peppers and bean sprouts for two minutes.
Add hoisin sauce, tamari, mirin, and gently sauté for 1 minute.
Remove from flame and begin plating.
Plating
Place the Fish in the center of an appropriately sized warm plate or bowl.
Gentle spoon vegetables on top of Red Snapper.
Place Baby bok choy over vegetables.
Generously spoon the vegetable broth over the vegetables and fish and let broth pool on the bottom.
Garnish with the Greens Do Good Micro Greens, Fresh cilantro and more sliced scallions and Chop Sticks and serve. Enjoy!