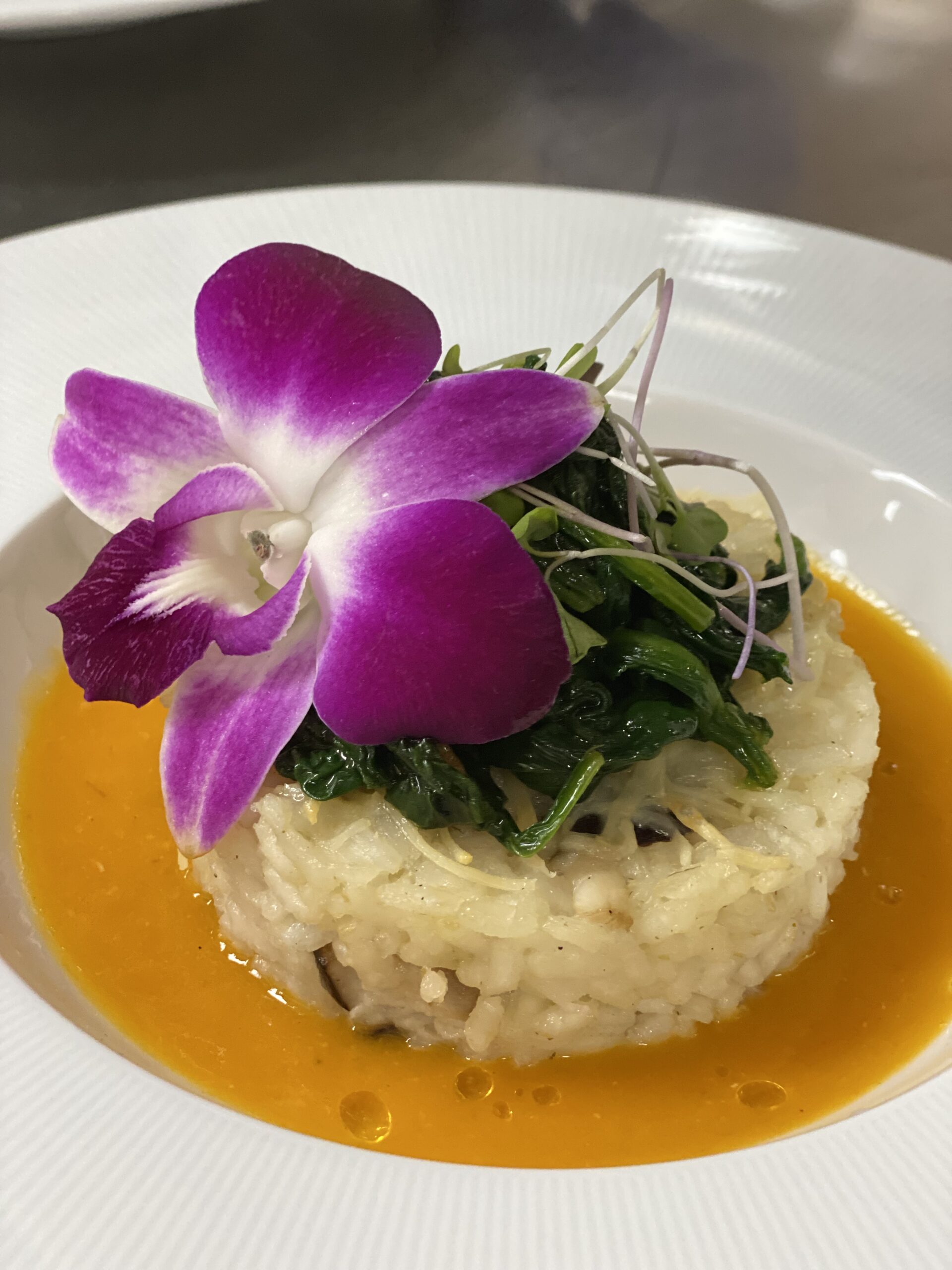 Courtesy of Edgewood Country Club Executive Chef Tony Villanueva
I created this simple elegant dish that is gluten free and can be Vegan if you omit the Parmesan cheese for our Vegetarian Guests who appreciate bold flavors while maintaining its vegetarian appeal. It's beautiful to look at but packs a wonderful Flavor Profile. Please enjoy an Edgewood Country Club Original!
Ingredients for Mushroom Truffle Cake
½ cup butter divided

2 garlic cloves in one piece but peeled and slightly crushed

2 shallots finely chopped

8 white button mushrooms chopped

1 cup risotto rice

2½ cups mushroom stock or vegetable Stock

1⅓ cups dry white wine

1¾ cups Parmesan cheese grated

¼ cup white truffle oil or to taste
salt and ground black pepper to taste
Ingredients for Yellow Tomato Coulis
1-pound yellow Beef steak Tomatoes or yellow cherry tomatoes (about 2 2/3 cups)
2 cloves of chopped garlic
3/4 tsp salt
Pinch of fresh black pepper
1 tbsp olive oil
2 sprigs of Greens Do Good Basil, chopped
Ingredients for wilted Greens Do Good Kale
• 2 cups of Greens Do Good Kale
• 1 tbls extra virgin olive oil
Step by Step Instructions
Mushroom Truffle Risotto Cake
Melt half the butter in a skillet over medium-high heat.
Add shallots and garlic and fry for 2 minutes, until fragrant.
Remove the garlic cloves and add the mushrooms and the rest of the butter. Fry for 2
minutes.
Add risotto rice and cook for a minute, until the butter has been almost completely absorbed.
Raise the heat to high and pour in the wine. Cook until most of the liquid is gone, stirring constantly reduce.
Add the mushroom stock and bring to a slow simmer. Then lower the heat so the slow simmer is kept and stir once. Then do not stir again until it is done.
After 16 minutes, the risotto should be done. At this point it should be cooked almost through – but there should still be a solid core in the middle of the rice.
Remove the pan from the heat and add in Parmesan cheese and truffle oil. Taste test and season with salt and ground black pepper as needed.
Use a round 3-inch ring mold or appropriate mold and spoon in cooked risotto to form cake. Reserve until ready to use, when ready to serve heat risotto cake on a greased sheet pan or in a cookie pan for 10 minutes at 350 degrees.

Yellow Tomato Coulis
Sauté garlic in Olive oil, add the yellow tomatoes and sauté until fragrant. Season with salt and pepper and add organic basil.
In a blender puree tomatoes, salt, basil and olive oil until smooth. And reserve until ready to serve.
Wilted Kale
Heat up olive oil in sauté pan,
Add Greens Do Good Organic Kale and sauté for 1 minute.
Season with salt and pepper.
Drain excess liquid and reserve for plate up.
Plating
Use an appropriate warm plate or bowl.
Pour the tomato coulis on bottom of plate or bowl.
Gently place hot risotto cake in center of the sauce.
Gently add the sauteed Greens Do good Kale over the top.
Add some of the chopped greens do good Basil on top for garnish
Add a pinch Greens do Good Micro greens for garnish.
Put a few Drops of truffle oil around dish to add truffle aroma to the dish.