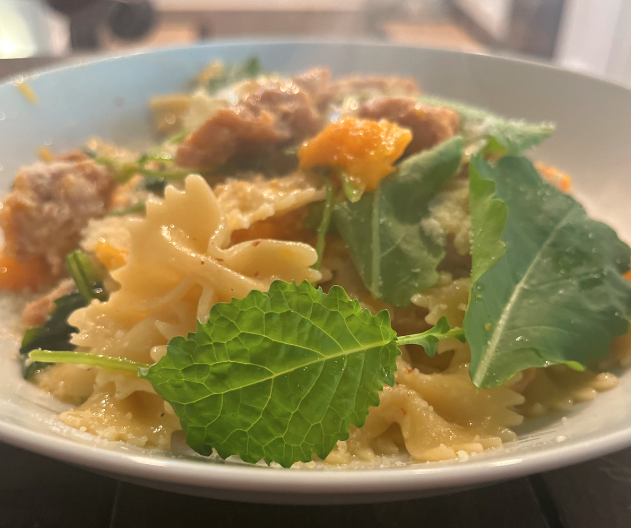 1 lb bowtie pasta
1 medium butternut squash (peeled and diced)
¼ cup extra virgin olive oil (divided)
1 tsp crushed red pepper
Salt and pepper
6 links chicken sausage (sweet or spicy)
3 cloves garlic (grated)
4 cups Greens Do Good baby kale

Grated Parmigiano-Reggiano

Minced parsley
Step by Step Instructions
Coat butternut squash with 2 tbsp olive oil, crushed red pepper, 1/2 tsp salt and 1/4 tsp pepper. Toss well and scatter in a single layer on prepared baking sheet. Roast at 375 degrees or until tender and golden brown, about 25-30 minutes, tossing once halfway through.
Prepare pasta according to package instructions reserving 1 cup of the starchy cooking liquid. Set aside pasta and cooking liquid.
Heat a large, deep pan over medium-high heat and coat with 1 tbsp olive oil. Remove sausage from casings and add to pan. Use a large wooden spoon to break up sausage and begin browning the meat. When sausage is about halfway cooked through, stir in grated garlic.
Continue to cook until sausage is cooked through, stirring frequently, about 7-9 minutes.
Add reserved liquid and use a wooden spoon to deglaze brown bits from the bottom of pan.
Stir in baby kale and remaining 2 tbsp olive oil, 1/2 tsp salt and 1/4 tsp pepper. Toss in cooked butternut squash and pasta. Garnish with additional fresh minced parsley and grated Parmigiano-Reggiano.
Enjoy!