Courtesy of Executive Chef Tony Villaneueva of Edgewood Country Club
1-pound U-10 diver scallops cleaned
1 bunch Greens Do Good microgreens

5 lbs fresh or frozen fava beans
3 tbsp extra virgin olive oil
Sea salt
Fresh cracked pepper
4 cloves garlic chopped
½ tsp chopped rosemary
Mushroom White Truffle Caviar
4 Portobello mushroom caps (gills scraped)
¼ pound button mushrooms
Truffle oil or paste to taste
2 tbsp Extra virgin olive oil
4 cloves minced garlic
Sea salt and fresh cracked pepper, to taste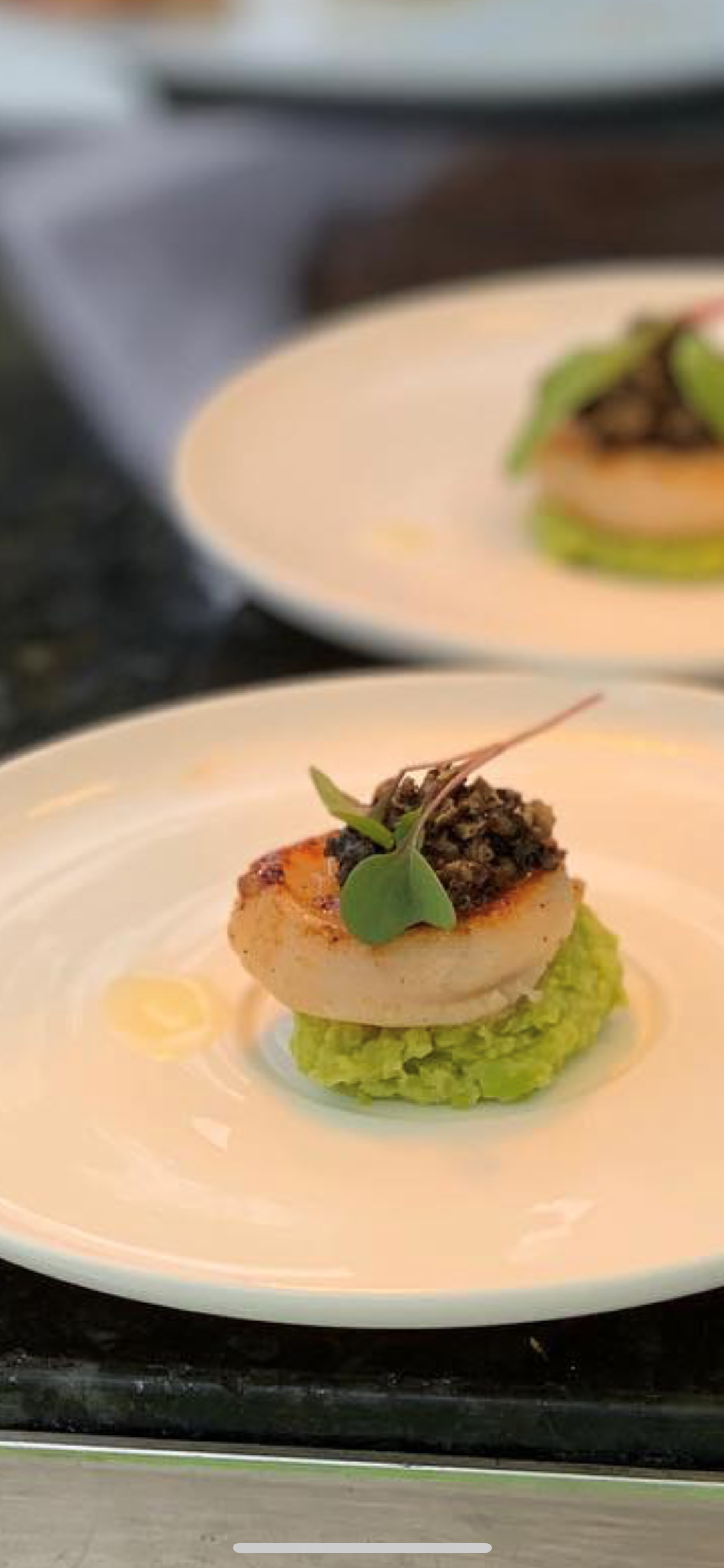 Step by Step Instructions
Mushroom white truffle caviar
Rough chop the Portobello and button mushrooms.
Heat sauté pan with olive oil.
Add minced garlic and stir until fragrant.
Add rough chopped mushrooms and sauté until tender approximately 3 minutes.
Season with sea salt and cracked pepper to taste.
Let mixture cool and place in a food processor, stream in truffle oil until desired taste.
Blend until mushrooms resemble caviar.
Reserve until ready to use.
Fava Bean Mash
Blanch fava beans in salt water for 1 minute.
Remove and shock in ice bath. Bowl with ice and water.
Remove outer skin from the fava bean.
Add the olive oil in a sauté pan or skillet and heat over medium heat.
Add fava beans and sauté for two minutes. Add the chopped garlic and continue to sauté.
Add 1 cup of water or vegetable stock and simmer for 10 minutes until water or stock evaporates.
Cover and simmer gently.
Remove beans from pan and blend in a food processor.
Season with fresh cracked pepper, sea salt, and chopped rosemary.
Place in bowl and cover with plastic wrap until ready to use. Keep warm
Scallop
Heat up sauté pan.
Add olive oil to pan until smoke point.
Season with sea salt and fresh cracked pepper.
Sear scallops on each side until golden brown crust forms.
Plating
In appropriate plate, place a spoonful of the fava bean mash in center of plate.
Place seared scallop over fava bean mash.
Top the seared scallop with the mushroom truffle caviar.
Decorate with "Greens Do Good" micro greens and drizzle some truffle oil on top of the micro greens and serve.