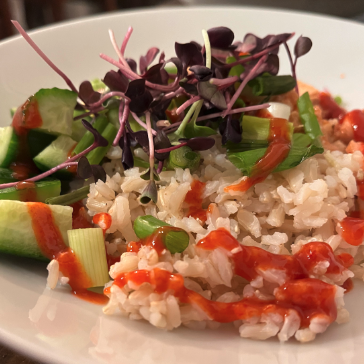 This Salmon Rice Bowl recipe from Director of Operations Jen Faust is perfect for healthy weeknight meals. Topped with sriracha sauce and then sprinkled with Greens Do Good cilantro microgreens, it's easy to prep, cook, assemble and enjoy!
4 (4-6 ounce each) salmon filets, cut into bite-size chunks
6 tbsp extra virgin olive oil
1-2 tbsp chili oil
2 tbsp honey
1 tbsp soy sauce
Kosher salt and black pepper
1 tbsp sesame seeds
1/2 cup Greens Do Good Cilantro microgreens
3-4 cups cooked rice with 2-3 tablespoons of rice wine vinegar
Toppings:
Chopped cucumbers

Diced mango
Sliced avocado
Chopped green onions
Diced jalapeño (optional)
Sriracha sauce
Step by Step Instructions
Preheat the oven to 450°. On a baking sheet, toss the salmon pieces with olive oil, chili oil, honey, soy sauce, sesame seeds, and a pinch each of salt and pepper. Arrange in a single layer.  Roast for 10-15 minutes or until the salmon is cooked to your liking. During the last minute, switch the oven to broil and broil until lightly charred. Set the salmon aside.
Assemble bowls with rice, salmon, microgreens and preferred toppings. Makes 4 bowls.
Enjoy!