Courtesy of Executive Chef Chris Migton of Chez Catherine
1/2 cup virgin olive oil
2 whole lemons juice & zest
8-10 leaves Greens Do Good Basil
Salt and pepper, to taste
For blender: combine all until uniform
For bowl: Mince the basil leaves.  Whisk to combine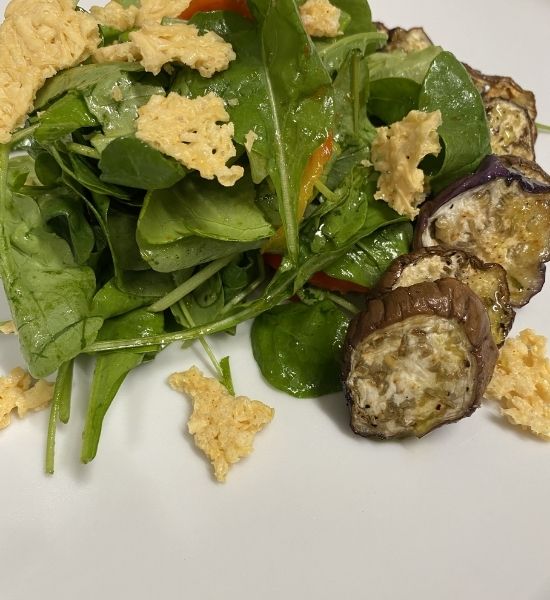 Step by Step Instructions
Roasted Pepper and Eggplant
Wash one red pepper.  Slice in half longways and remove core and seeds.  Coat inside and outside lightly with olive oil and season with salt.  Roast cut side down at 425 until skin blisters, about 15 minutes.  Remove from oven and allow to cool until comfortable to handle.  Using a paring knife, remove the skin and discard.  Slice into thin strips.  This method makes removing the skin easy, keeps the flavor of the pepper, and results in a beautiful red color.
Slice one Japanese eggplant into quarter inch slices.  Drizzle with olive oil and season with salt and pepper.  Arrange the slices in an even layer on a baking sheet.  Roast at 425 until tender, about 10 minutes.  Cool to room temperature.
Crispy Parmesan
Arrange 1/2 C shredded parmesan on a nonstick baking mat on an oven safe tray in a single layer.  Bake at 375 until golden brown and crisp.  Do not bake the parmesan in the same oven as the vegetables as the cheese will steam instead of crisp.
Finishing
Lightly dress the greens and roasted pepper slices with a small amount of the dressing.  Plate the salad.  Top with the crispy parmesan.  Garnish with the eggplant drizzled with vinaigrette.